I find that if I listen to some of these bands while I write about seeing them live a million years ago, it's as if I'm closing the gap of time, balding, beer bellies and emo.
I was a senior in high school in 1992, thinking about nothing but graduating and getting the
hell
outta there. It's funny, because I started out as an "incoming sophomore" and was really into my classes, like algebra and Spanish. I did really well that first year, but come junior year, the Gulf War (the first one) busted out and we were all like "fight war, not wars" and demonstrating and freezing our asses off. My grades tanked, but boy was I politically active.
We start '92 with another fab Pixies show.
Who the hell is Barkmarket? I wish maybe I had been more open minded about opening acts, but unless I already knew who they were, I wasn't very good at standing around and listening to one band when all I wanted to do was see the next one.
Fugazi played the Palladium in April of '92, and I got to see them (again). I'm pretty sure the Radicts opened for this show and during their opening number I got a big Doc Marten boot planted firmly on my forehead and was knocked out for the first half of Fugazi's set. I'm probably exaggerating here, but I do remember coming to and hearing one of Fugazi's many amazing opening bass lines and I quickly ran right back to the pit, regardless of my Doc Marten induced headache.
Every now and then you'll see a ticket from a different kind of event, like this Les Miserables show.
My parents got me and my boyfriend-at-the-time tickets to see this for my birthday, probably because of the whole revolutionary angle. I hate to admit that not only could we barely fit into the seats (long legs are sometimes a curse), we were bored to tears. I probably would have appreciated the show more a bit later in life, but at the time I was way too punk to dig it.
Look! Another Bad Religion show!
I know, All is the headliner, but I didn't know jack about them and probably left the gig right after Bad Religion's set.
After the Les Miserables debacle, boyfriend-at-the-time one upped the parents with birthday tickets to see Blue Man Group. They did their awesome thing, we were totally wowed, and one of them made it a point to play with the huge nose ring dangling out of my nostril.
The awesome thing about Blue Man Group is that they're still doing this at the very same theater years later, and I've had brunch with
Steve White
on more than one occasion (his wife
Susan
is a good friend of mine). And now Susan is on Broadway. Shut
up
.
I don't remember if the Pixies were splitting up yet at this point or what, but I do remember being very psyched that the Deal sisters were going out into the world with their new band, the Breeders. I was all up in that hizzy (hizzy = show).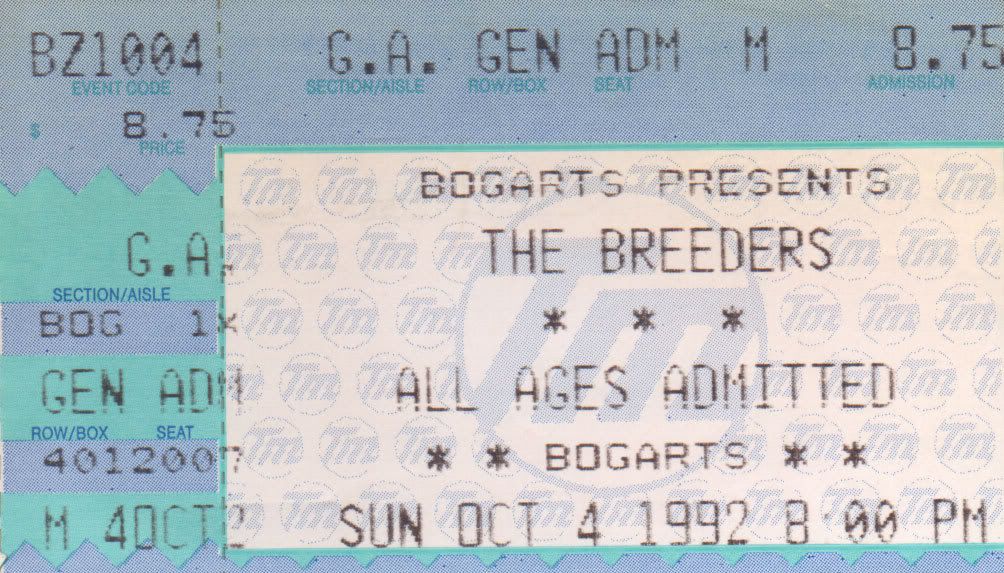 But wait a second. Wait just a god damn minute! That ticket says Bogarts, so I guess I saw this gig in Cincinnati? I honestly don't remember the deal with all that, and I probably got in trouble for crossing the boyfriend streams (wouldn't be the first time...).
And then I think I saw my first Consolidated show. They were so much fun. If they were just a little bit more nerdy, they could have usurped MC Frontalot's claim to founding nerdcore.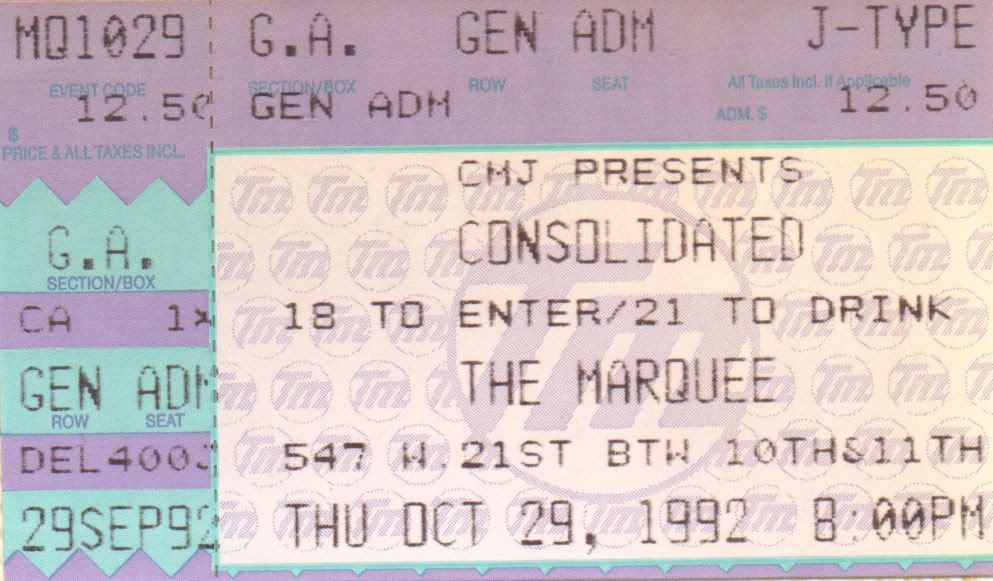 My first ticket from '93 comes from a Henry Rollins spoken word gig.
I don't remember much from that gig other than him talking about his buddy Joe Cole. I saw him again not too long after that at Wetlands where he basically gave the same spiel, but it was still cool to see him.
'93 seems to be the year I started clipping show ads out of the papers. Before the interwebs, I relied heavily on the Village Voice (and word of mouth) for knowledge of all upcoming shows. Here's one for Consolidated.
Ohmygod the Goats! They were awesome (or at least I thought so back then). That might have been the first I heard of them, and I'm pretty sure I nabbed a used copy of their CD at
my local record shop
(now an online retailer).
Hey, is that Walt Jabsco?
And it looks like I was at Skalapolooza the very next day!
1993 was a great year for ska in the US. Shitloads of bands, some from the 80s, some new ones, all touring together. These shows were tons of fun because they were always packed with all kinds of different people, who mostly wanted to dance the entire time and I was all about that. I would meet some people about a year later who were at these same shows, but had shaved heads and wore Fred Perrys (a club I would soon join thanks to their combined influences).
But my head wasn't shaved just yet, so I saw Digable Planets in March of '93.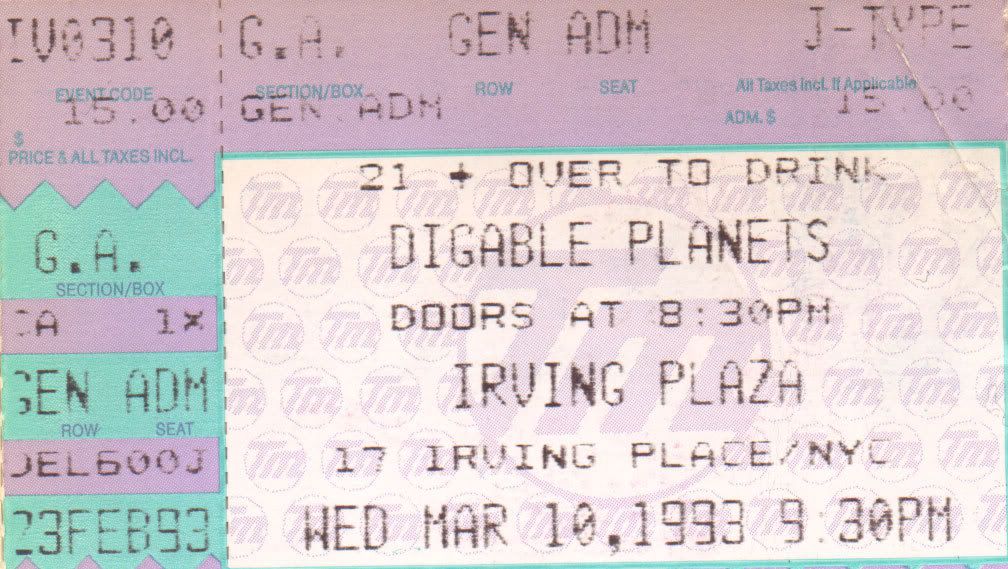 They were horrible. Nothing like the
one-hit-wonder
video we all saw prior to the show. One of many examples of how hip hop doesn't always translate well in a live show (you'll hear about Wu Tang Clan when we get to '97).
I loved the Sugarcubes, so when Bjork toured solo, I went to go see her at Webster Hall.
I didn't have a great time at this show. Granted, it was only $10, which was awesome, but it was way too crowded and you couldn't get near the actual performance area and the sound wasn't good and just meh. Can't win 'em all.
But that's okay, because there were more multi-band ska shows to go to! Like "Skavoovee."
I should have probably tried to get my dad to come with me to this show, because he was such a huge Selecter fan, but I was at an age where that just wasn't cool (he'd have to wait until 1999 when we saw Joe Strummer together).
Next up: the Beastie Boys years!