During 1990, 1991 and half of 1992, I was in
high school
, so my budget and freedoms were somewhat limited. High school marked the formative era during which I (and everyone else and their mother) found other kids that loved the Clash who ultimately introduced me to such punk bands as Crass, Conflict, Antischism and Nausea. Fugazi, too, but are they punk?
Speaking of Nausea, I saw them during one of the many Saturday afternoon matinee shows I frequented at
ABC No Rio
(still going strong) during the 90s. Their show was one of many that were once represented by a
huge
punk show flier collection, safely filed in a filing cabinet, but those (and everything else in that ill-fated filing cabinet) bit the dust years ago. We'll just have to settle for the bigger names that got fancy tickets printed for their shows at venues like the Marquee, the Academy, the Grand, Palladium, and the Ritz.
There are only two concerts here from (late) 1990: Skinny Puppy at the Ritz and "Special Beat" with the Toasters, also at the Ritz.
The Skinny Puppy show was PACKED and sweaty and I almost got crushed by the crowd of huge industrial dudes. But they were great. Tank Hog sucked. Or perhaps they simply weren't my cup of tea. I just couldn't understand why they were the opening band, a question I would continue to ask myself of opening bands to this very day...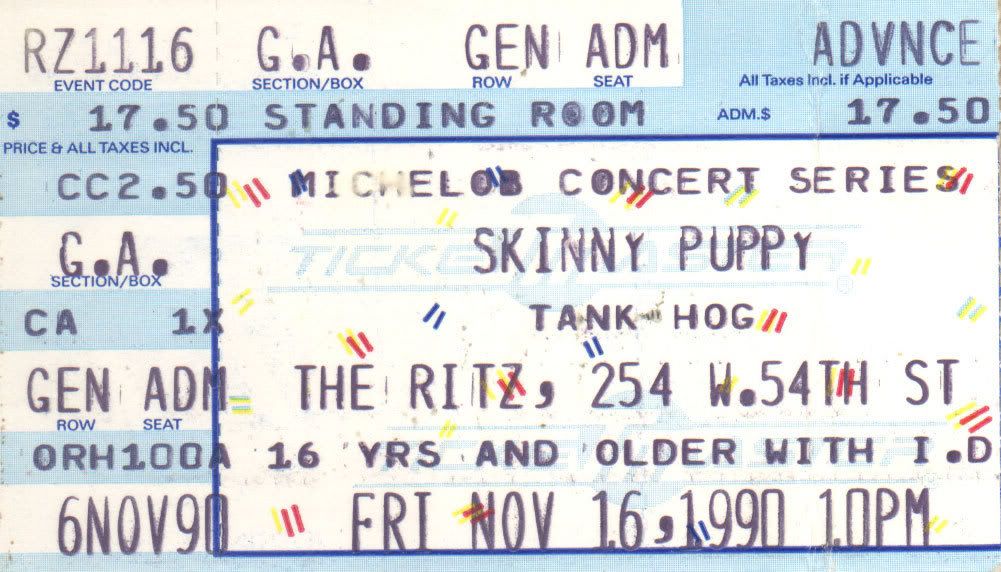 I remember being pretty scared of being carded at this show, because I was only 15 and the Ritz had this stupid policy about shows being 16+. Luckily, being tall, I didn't get nabbed.
Growing up, I listened to my parent's Selecter LPs (among a few other albums of theirs) and had a vague idea of what Two Tone sounded like. In high school, I got heavily into the Specials, English Beat, Madness and Bad Manners (it was a great treat to learn that the Selecter were simply one of many bands churning that sound out of London all around the same time). When I learned that "Special Beat" included members of both the Specials and English Beat, and that they were playing, I was on that like brown on rice. The Toasters opening up was a bit of a bonus because I didn't know them from a hole in the wall, but years later would come to know them quite well.
1991 started off beautifully with a Nine Inch Nails show, in support of their Pretty Hate Machine album, which I (and everyone I knew) loved. I copied the lyrics to a bunch of those songs on my bedroom walls in big black marker and became a total NIN dork. The show was amazing, and I distinctly remember being impressed by the low-tech effect of seeing silver tinsel blown into Trent Reznor's face behind a dramatic strobe light during the entire set. We've come so far in concert theatrics since then...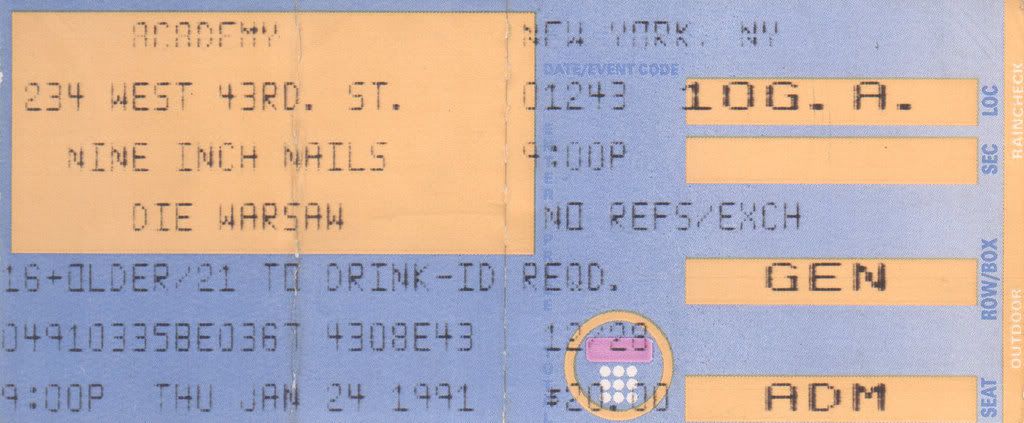 Don't remember shit about Die Warsaw.
Another band that I got into in high school was Bad Religion, and luckily for me, they played all the fucking time, so you'll see them repeated a couple of times here.
Another band that played constantly was Fugazi. My friends and I went to every local show and even traveled to a couple, like this one at Drexel University in Philadelphia.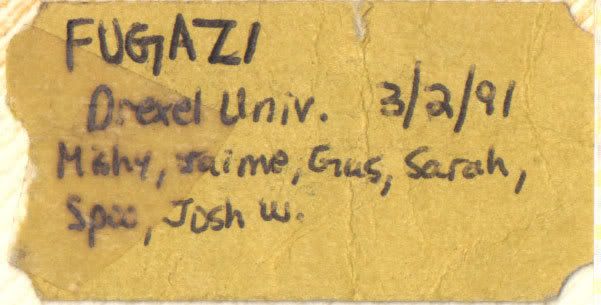 It's kinda nuts that I didn't have a proper ticket to save from the show, so I basically made one out of the cheesy ticket stub they gave us. I can tell you that I'm still in touch with at least two names on that ticket stub.
This next show represents the beginning of being heavily influenced by whatever band my boyfriend(s)-at-the-time were listening to. I dated
a guy in Cincinnati
(I know what you're thinking: she's 15, in high school, and dating someone in Cincinnati? That was the beauty of attending anarcho-punk protests outside of NYC - you never knew what kind of hottie you were going to hook up with), and in addition to being into all kinds of punk/industrial/hardcore music, he had a soft spot for electronica (and the Better Youth Organization, but that's another story) and got me into Meat Beat Manifesto. We'd trade mix tapes through the mail, and his tapes would always include bands like MBM, Pigface, Skinny Puppy and Consolidated. I was instantly hooked, because unlike a lot of the fast paced punk stuff, you could really dance to this shit. So, off to Cincinnati I went (via Greyhound) to see MBM with this guy.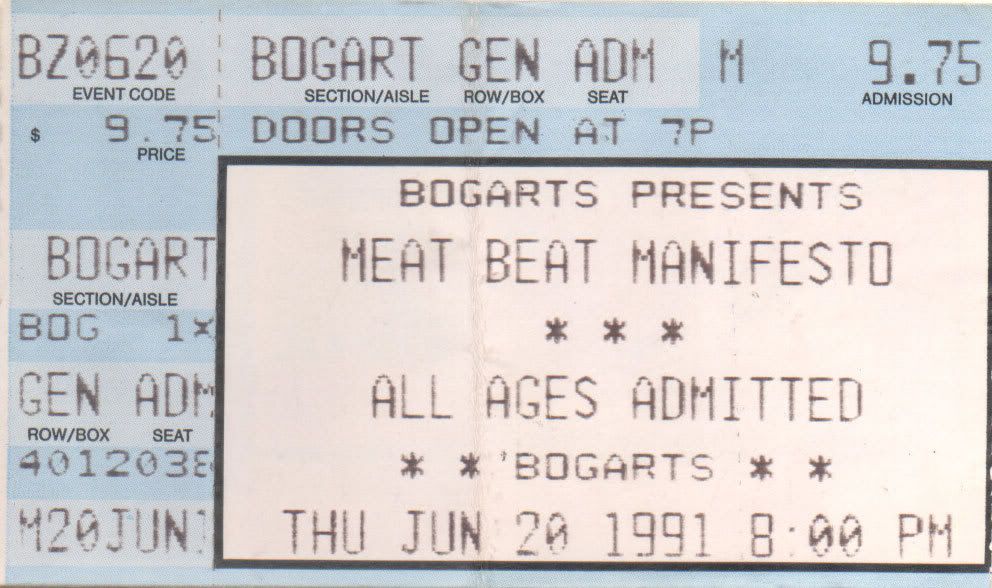 Bogarts was (is) a large venue along Vine Street near the University of Ohio in Cincinnati. The smaller places, like
Sudsy Malone's
, didn't print tickets, so I have no paper proof of having seen the Dwarves or BuBu Klan there, but I do remember wishing I had a load of laundry with me so I could have gotten in for free.
For my 16th birthday, my best friend Mishy bought us tickets to see Einsturzende Neubauten at the Ritz. They blew us away. Period.
There were a lot of older cats there to see Cabaret Voltaire, who I thought were total disco dorks. Little did I know that they'd been around a while and had a whole other fan base. See what I mean about mismatched opening acts?
A bunch of our friends in high school really dug Primus and were definitely influenced by them in their own bands. I remember being really impressed by how high, and how
quickly
Les Claypool could pump that one leg while he played bass and sang.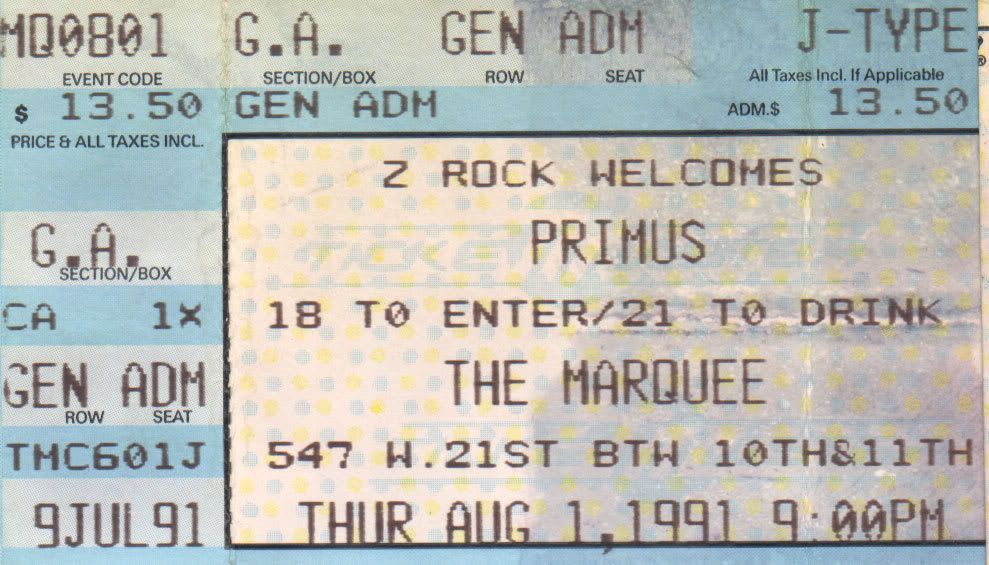 Now, for the juggernaut of all early 90s shows: the first, the original,
Lollapalooza
. There was tons of excitement amongst my friends about the possibility of seeing so many good bands (Siouxsie! Janes! NIN!) in one day in one place. It was like finally knowing what it was like to be European, what with their all-day (two-day, three-day) music festivals. Sadly, Siouxsie didn't play, but we got to see everyone else perform.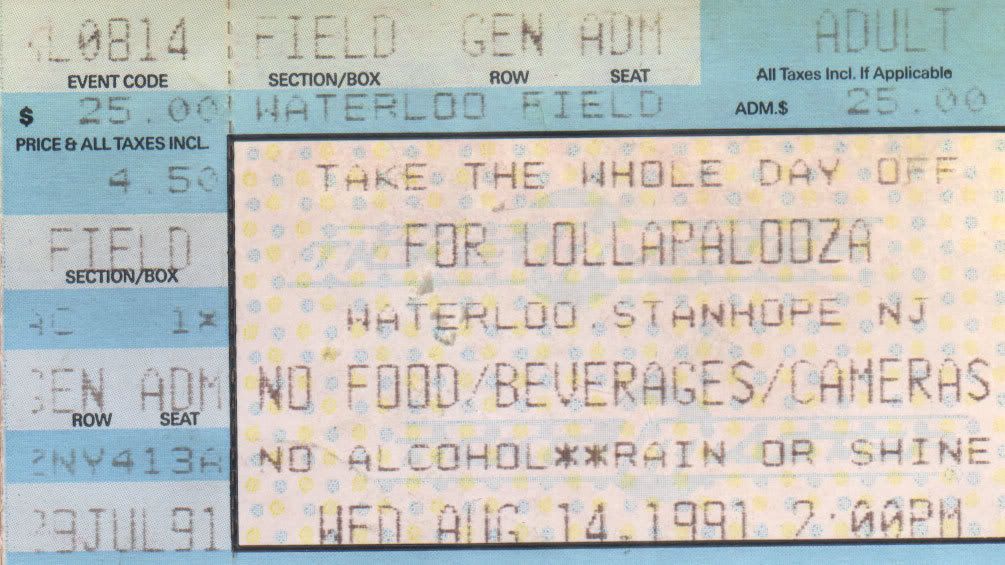 So much dirt got kicked up during each set that we were clawing black mud off our tongues all day (and night). But it was so worth it. Janes made me cry, dammit. I learned that day to wear sunblock to outdoor shows, and lots of it.
Another huge band for me during high school (and today) was the Pixies.
Where Is My Mind?
was my theme song way before Fight Club got its hands on it.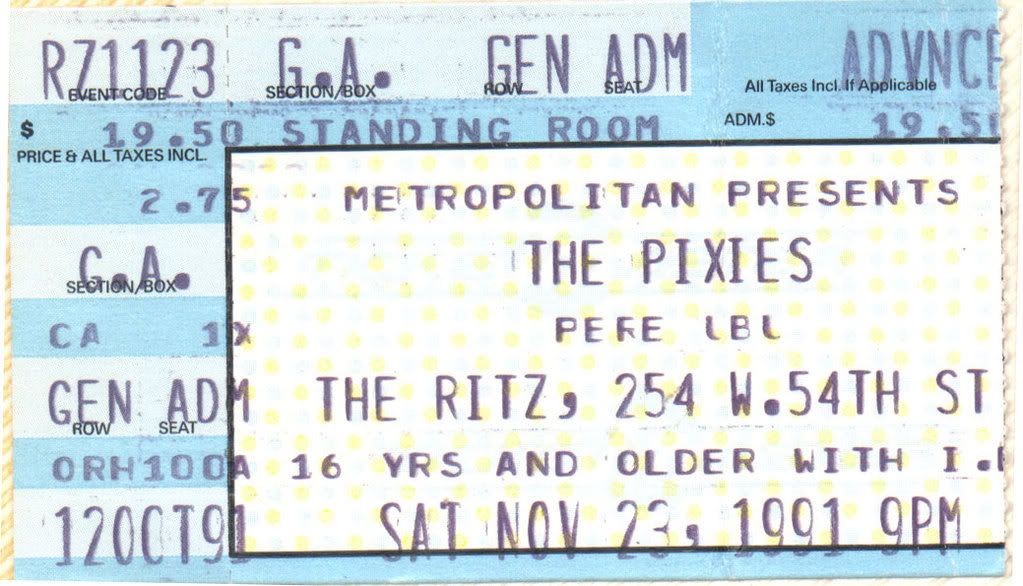 They were delicious! Don't remember Pere Ubu at all.
And now we close 1991 with yet another Bad Religion show.
Tune in next time when we cruise through 1992 (and maybe 1993)!