I started furiously scanning ticket stubs this evening and I realized that my very first major concert isn't represented in the mix, unfortunately.
It was 1988 and the group
Refuse & Resist!
hosted a Resist in Concert! night at the Palladium. I was there with my parents, mainly to see the
False Prophets
, who I had previously seen perform the year before at a church (of all places) and MC Lyte. The performance that really blew me away, though, was by a tiny bald chick with a funny name (Sinead O'Connor) wearing overalls and a white undershirt. Most people in the audience didn't seem to know who she was, but I can guarantee you they remembered her forever after that performance.
The ticket frenzy, as promised, begins in 1989 with a Jackson Browne concert in Florida.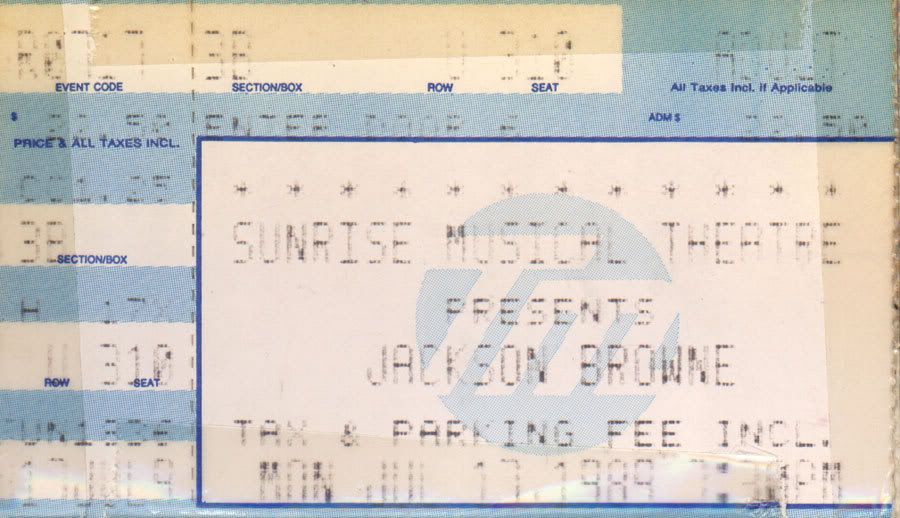 This was a birthday present from my Aunt Leah while I was visiting her in Florida. I had already been listening to my parent's
Lives in the Balance
LP (which I still have), so I was pretty psyched to see him live.
The only other concert ticket I have from the 80s was a Bangles show at Jones Beach. My cousin
Dono
was dating Susanna Hoffs at the time, so he hooked me (and my parents) up with tickets and backstage passes to see them. I wish I still had the backstage pass, but I all I remember of the show was going backstage and being really excited to see a tub of free bottled water (it was a hot, outdoor, summer concert).
And that concludes my brief ticketganza from the 80s. Next post: the 90s!